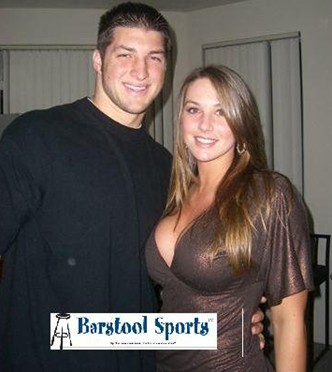 Big Boobs are Tim Tebow's Kryptonite 
This is without a doubt the best football conference in America.  There are a lot of reasons for that and maybe in other post I'll go into some of those- but not here, not today.  I think this conference could have 4 legitimate national title contenders in Florida, Georgia, LSU and Auburn.  Despite what some pundits say I do believe someone can get through this conference undefeated, at least going into the conference title game.  Right behind that group is Tennessee, which might be good enough to compete with those big 4.  After that, the rest of the teams are largely unknown but I think all are capable of making a bowl with the exception of Vandy.  
Florida- 12-0-
 Yes I have them undefeated.  The biggest thing for this team will be if can they establish any sort of vertical running game and can they improve in the secondary.  I think they can do both. 
Georgia-10-2
- Perhaps the most hyped team coming into the season.  I'm not sold.  I was a fan last year but that offense didn't perform nearly enough and don't give me that the bowl game was an example of anything.  3/4 of the BCS conference teams would have beat the shit out of Hawaii.  
LSU- 10-2
- Skill position questions, but I think they will scrap together a nearly great season.  
Auburn-9-3
- If they can break in a new QB watch out.  Good coach, but probably not enough to get through the season perfect. 
Alabama- 8-4
- I don't like putting this team at 8-4 but I will.  Saban is building here, it could be scary in a couple of years.  
Tennessee- 9-3
- I think they're just a couple of pieces away from competing for a national title this year.  Fulmer better watch out if he does anything less than what is predicted as he is under increased scrutiny.  
South Carolina- 7-5
- Spurrier might top my list of most overrated coaches.  He's recruited well here though and I expect to see them back in a bowl.  
Ole Miss- 6-6
- I think Houston Nutt can coach and Ogeron had been stockpiling some talent here- he just ran out of time.  Should finally be back in a bowl game this year.  
Arkansas- 6-6
- A strange program to judge, as they have huge expectations and not a ton of history to back it up.  Despite the transition to a new coach they should be right on the edge of a bowl game again.   
Mississippi St- 5-7
- I'm not sure how this team got to a bowl game last year, I don't see them getting back to one.  
Kentucky-5-7
-  Hard team to judge last year, but probably lost too much off a decent team.  
Vandy- 4-8
- They will flat out never compete in this league in the current format.  I do respect their coach and their effort though.  
All-SEC Team
QB-Tim Tebow, Florida
DE- Tyson Jackson, LSU
RB- Knowshon Moreno, UGA
DT- Jeremy Jarmon, Kentucky
RB- Arian Foster, Tenn
DT- Ricky Jean-Francois, LSU
WR- Brandon Lafell, LSU
DE- Geno Atkins, Georgia
WR- Mohammed Massaquoi, UGA
LB- Rico Mccoy, Tenn
TE- Cornelius Ingram, Florida
LB- Tray Blackmon, Auburn
OL- Antoine Caldwell, Bama
LB- Brandon Spikes, Florida
OL- Andre Smith, Bama
CB- Asher Allen, UGA
OL- Michael Oher- Ole Miss
CB- DJ Moore, Vandy
OL- Mitch Petrus, Ark
S- Erik Barry- Tenn
OL- Anthony Parker, Tenn
S- Derek Pegues, MSU
Top Newcomers
Patrick Johnson- DB- LSU
Julio Jones-WR-Alabama
AJ Green-WR- Georgia
Omar Hunter- DL-Florida
Brendan Beal-LB- Florida